Follow us and get all the SWSW Digital Library updates as they happen.  Click in the bottom right hand corner of this window and add your  email address
Indigenous War Veterans
Picture from CBC News Article:  Decorated First Nations vet Tommy Prince embodied triumph, darkness of war. by Meagan Fiddler, Nov. 11, 2015.
The contributions of Indigenous War Veterans have long been under-reported and acknowledged.  Here are some links to resources that highlight the valuable and important contributions to war and peace keeping efforts by Indigenous Veterans.
The Memory Project from Historica Canada.
Indigenous Veterans from Veterans Affairs Canada
"I Love this Land" poem by Chief R. Stacey LaForme : Text of the poem and audio reading by Canadian actor R. H. Thompson.  Includes a link to R. H. Thompson's project "The World Remembers". (You can find a link here to full CBC interview on The Sunday Edition, Nov. 5, 2017.)
SWSW Library Resources
 The Scout : Tommy Prince by David Alexander Robertson (Graphic Novel.  We have 11 copies and schools have class sets. See your school teacher librarian. [for Middle and High School grades]
 When the Spirits Dance by Larry Loyie with Constance Brissendan (Autobiography) [for gr. 6-9]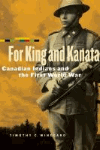 For King and Kanata : Canadian Indians and the First World War by Timothy [for Middle, High School and ProD]
This blog post is in process of being developed.