Follow us and get all the SWSW Digital Library updates as they happen.  Click in the bottom right hand corner of this window and add your  email address
Here are some resources that may help students deepen their understanding of war and peace.
Indigenous War Veterans
Picture from CBC News Article:  Decorated First Nations vet Tommy Prince embodied triumph, darkness of war. by Meagan Fiddler, Nov. 11, 2015.
The contributions of Indigenous War Veterans have long been under-reported and acknowledged.  Here are some links to resources that highlight the valuable and important contributions to war and peace keeping efforts by Indigenous Veterans.
The Memory Project from Historica Canada.
Indigenous Veterans from Veterans Affairs Canada
"I Love this Land" poem by Chief R. Stacey LaForme : Text of the poem and audio reading by Canadian actor R. H. Thompson.  Includes a link to R. H. Thompson's project "The World Remembers". (You can find a link here to full CBC interview on The Sunday Edition, Nov. 5, 2017.)
Aboriginal Veterans : Equal on the battlefields, but not at home (Gr. 9-12, ProD)
First Nations Veterans of Canada (music video [5:32]; music by Robbie Robertson; 2008; All Grades)
National Aboriginal Veterans Monument – National Capital Commission (1:22; All Grades)
More About Tommy Prince 
Tommy Prince, Canadian Hero of War (4:16; Gr. 6-12))
Honouring Indigenous Heroes : Tommy Prince Commemorative Project (5:45; Gr. 4-12))
SWSW Library Resources
 The Scout : Tommy Prince by David Alexander Robertson (Graphic Novel).  We have 11 copies and schools have class sets. See your school teacher librarian. (Historical fiction) [for grades 4-8]
 When the Spirits Dance by Larry Loyie with Constance Brissendan (Autobiography) [for gr. 6-9]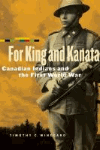 For King and Kanata : Canadian Indians and the First World War by Timothy (Non-Ficiton)[for Middle, High School and ProD]
 Code Talker by Joseph Bruchac .  We have 4 copies.  (Historical fiction) [for grade 9-12]
ERAC Review  You will need an ERAC account to read the full review.
Literature Circle Question Guide from Scholastic with Joseph Bruchac.
Three Day Road by Joseph Boyden (Fiction) [for Grade 11-12 and Adults]
ERAC Review  You will need an ERAC account to read the full review.